! -- $Header: ~rt.html,v 1.0 1995/03/16 14:48:00 rmt Exp $ -->
Copyright © 2007 - 2019
Copyright © 2007 - 2019, Coachworks For contact data Click Here.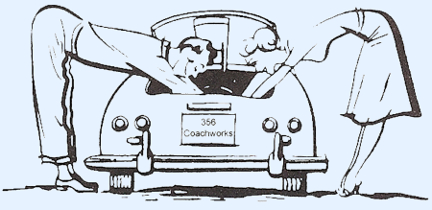 Our Transaxles
---
Our philosophy is that transaxles should work so smoothly and quietly that they are easily forgotten.
---
About our Transaxles
We provide documentation on every transaxle we build, including:

identification of every major part (gear ratios, etc)
important assembly information such as the size of the shim stack on S1 or under the pinion head, backlash, etc.
case serial #, casting dates, and other identifiable features (clearancing for larger flywheels, for example)
size of starter bushing (6v versus 12v)

We always use solid axle boots, unless otherwise requested.
We have and use factory tools for all operations.

We have many rare examples such as the dual dial indicator differential carrier measurement tool.
In some instances we have improved versions of these tools.
We have the alignment tool that ensures, during transaxle installation, proper nose height in a 356.
We even have a drum puller - a vital tool for removing aluminum drums when they're stuck!

We have a lapping table which can be used to flatten split cases or other warped surfaces, or smooth out imperfections.
We have all the factory workshop manuals and technical bulletins and use them.
We have a surprising set of spares on hand, both new and used, including a few very rare transaxle bearings. In a few instances, we also have experience making needed bearings that have become unavailable by modifying an available bearing to suit.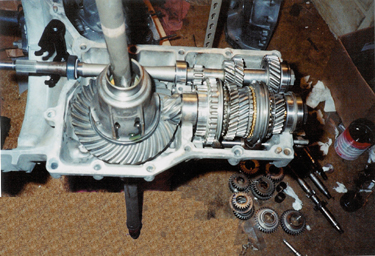 ---
Our experience with transaxles goes back to the late 1970s when one of us (Richard) built up a 2200cc engine and wanted the gears to match. In the late 1980s, getting someone to - or finding someone who would - rebuild a split case transaxle was nearly impossible. So, that's when we collected up the tools and began rebuilding them. We worked a deal with widely known and highly regarded Glen Wolfram of San Jose, California - the man who rebuilt transaxles for Harry Pellow. In that deal, about 1991, we secured a complete set of factory tools, a large pile of new and used parts, and Glen took Richard on as an apprentice wherein Glen imparted decades of wisdom and knowledge on transaxle rebuilding, especially including how to tell worn out parts from good ones by examination.
---
---
---