! -- $Header: ~/web/Engines/engines.html,v 1.0 1998/7/14 21:17:03 rmt Exp $ -->
Copyright © 2007 - 2023
Copyright © 2007 - 2023, Coachworks For contact data Click Here.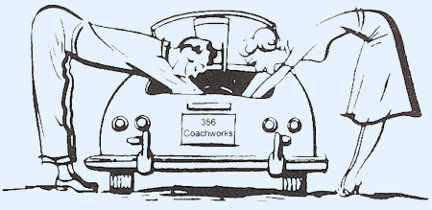 Our Service Packages
Over the years, we have developed a series of Standardized Service Packages which give our customers some certainty in pricing of various services and confidence that their project isn't going to inadvertently go way over budget.
---
Our Service Packages Help Ensure Both Your Quality And Budget Goals Are Met
---
Listing of Our Service Packages
Find descriptions of each package down below.
Engines



Premium Services - Each Premium Service combines long-block, dynamometer and assembly services and upgrades parts often ignored for a superior product. Find more information below.

PS-616 - Combines 616-LB and Dyno-RT
PS-3PC - Combines 3PC-LB and Dyno-RT
PS-2PC - Combines 3PC-LB and Dyno-RT

Dynamometer Services

Long-blocks - all packages in this category "begin and end" with a Long-Block. (A definition of "long-block" is here.)

616-LB - Rebuild of type 616 category engines to long-block status.
3PC-LB - Rebuild of all other non-type 616, three-piece crankcase 356 engines.
2PC-LB - Rebuild of all Porsche 356 two-piece crankcase engines.
LB-Assy - "Long block assembly". This package provides for assembly-only and is intended for those circumstances where an engine has recently been rebuilt but something went wrong such that the majority of the parts don't need any service work.

Engine Components

Transaxles

Trans-CK and Trans-2PC-CK - Transaxle Check for tunnel type and two-piece case ("2pc") transaxles
Trans-DIF and Trans-2PC-DIF - Transaxle Differential-Repair / Axles ONLY, for tunnel type and two-piece case ("2pc") transaxles
Trans-RB and Trans-2PC-RB - Transaxle Rebuild for tunnel type and two-piece case ("2pc") transaxles. Note that there are early, "hard-synchro" and later "soft-synchro" units and we differentiate pricing based on these differences. See below for more information.
---
Service Package Descriptions
Here we describe each package in detail.
---
Dyno-R
This Service Package is intended for engines with a freshly rebuilt long-block or those that have had new piston rings fitted or other work where running-in is advisable. Note: This package covers the services only. Consumables, such as oil, are not included and are priced separately. Customers with unusual oil requirements should provide the oil they wish to be used.

This service includes:

dynamometer rental
mounting & removal of the engine to and from the dynamometer (please don't confuse this with removal from the vehicle!)
initial oil fill (labor only)
initial startup, check ignition timing, basic check of fuel system, check for adequate oil pressure, exhaust and cylinder head leaks, (typically about an hour of run-time for all these checks)
if there was sufficient running time by this point and the oil is dirty, perform an oil change (labor only)
after cold, typically the next day, 2nd valve adjustment
perform run-in as per the appropriate specifications (Porsche has four different specifications we use, depending on engine, and VW has several too)
post-run-in service including an oil change (usually the 3rd fill) and valve adjustment (usually the third from new). If filters are fitted, the oil filters are changed.
oil and filters are not included in the package price, though the labor and recycling of used oil is included.

This service does not include any required parts or fuels.
Dyno-T
This Service Package is intended for either new engines or for ones which have undergone significant changes where the tuning may have changed - which could be anything from changes in carburetion to changes in exhaust - in which tuning is adviseable.

Choice of this package requires that the engine be fitted with standard components, or, for non-standard setups, that we agree in advance to use this pricing. (Weber carburetors are fine. For Delortos that use Weber jets, they are also OK.)

This service includes:

dynamometer rental
mounting & removal of the engine to and from the dynamometer (please don't confuse this with removal from the vehicle!)
setting ignition timing and ensure it does not advance too far when all the advance is "in"
basic carburetor setup checks including:

float level check
fuel leak check
set accelerator pump volume
set butterfly open and close stops
synchronize linkage between carbs

following the above tasks, one of the two following tasks is performed:

Fresh engines should not be run for maximum horsepower, so for just-run-in engines, we use our 5 gas exhaust analyzer to ensure that the jetting is reasonable and attempt to gauge, given the customer's intended usage, what jetting would best serve for the dynamic range of service the engine will see. This is the default option.
For already run-in (not "fresh") engines, the customer has the option of asking us (in advance!) to attempt to jet and adjust timing to find maximal HP on the day and in the weather conditions upon which we find ourselves on the dyno. Dyno time will be limited to a half-hour from the time this task is begun (run-time, not elapsed time). We will not perform this step unless specifically asked in advance, and performing both is not covered under this service package pricing.

This service does not include any required parts.
Dyno-RT
This service package combines both Dyno-R (run-in) and Dyno-T (tuning) with a reduced price since when there are a number of tasks in common between the two packages and doing both together means they only need to be done once.
Dyno-RL
This service package is for customers with a long-block (assembled by us or otherwise) who wish their engine to be run in using our "accessories" (carburetors, distributor, tinware, etc) for the run-in process (Dyno-R). Since in this instance the customer's parts aren't being used, there's no benefit to the customer for the "tuning" of the Dyno-T service, and instead we assemble the long-block to a turn-key engine withour parts, perform the run-in and then return the engine to long-block status. All the benefits of Dyno-R are applied to the engine.
---
616-LB, 3PC-LB (2PC-LB, please see note below)
1) Overview

These service packages share a lot in common and their basic distinctions are differences in pricing. These service packages include all the standard features our organization is known for, packaged as a flat-rate fee.

For the final price to be limited to only the pricing of this package, it is required that the customer provides "a good core." Any parts that cannot be made serviceable with standard practices will be billed at extra cost. For example, if welding is required, that would be at extra cost. Note also that "serviceable" must be understood in today's terms, not from back when these engines were new! In particular, some sizes of main and rod bearings are no longer available that were available back in the day. As we don't have a time-machine, we are limited to replacing parts or taking other remedial action to resolve such difficulties, and, of course, there will be an additional fee to cover such circumstances.

2) Policy for Roller Bearing Crankshafts

Since we cannot dismantle and re-assemble roller-bearing crankshafts in-house and are not aware of any vendors offering this service, while we can do a basic check of the Hirth roller-bearing crankshafts and check pin-fit, we can't really do anything else to these, so these are exempted from the services provided here. If the intended pistons do not share a connecting-pin fit diameter, and if the pistons are smaller, we will hone them to fit as a small extra charge. If they don't fit the other way around, a solution will have to be found and we will discuss it with our customer.

3) Special Note About Cleaning

Way back when these engines were new, engine oils were quite different than modern oil and they coated engine internals with a hard sludge. But back then, they had "hot tanks" that could easily remove this sludge. Since then there have been two major advancements in engine oil technology and since roughly late 1970s to early 1980s, this coating became a thing of the past. However SOME engines still have this sludge, and we no longer have the strong petrochemicals we had then to remove it. Thus, in such instances, we may either give it a normal cleaning and see if we can "live with" any remaining dirty interior if we deem it not putting the engine at risk of debris contamination and the customer approves, or charge an additional and unknowable in advance fee for removal of this material, or some combination of both, as required.

4) Task list applied to every long-block, as appropriate

complete long block disassembly and cleaning
complete reassembly back to long-block status
checking for cracks or other hidden flaws
as required basic machine services such as:

align-bore
crankshaft regrind
camshaft regrind and oil pump drive slot repair
decking of cylinder head bores
decking of cylinder bores in crankcase
honing of cylinders
flywheel / pressure plate refaced

machining services all engines receive: (ie not "as required", but performed on all engines)

new valve guides
valves are refaced and stems polished
valve seats are "ground"
setting spring heights
lifters-refaced
either refacing (early) or "hard-facing" (later) of rocker arm valve contact faces
rocker shafts are polished
crankshaft is magnifluxed (checked for cracks)
crankshaft journals polished
flywheel / pressure plate balanced (when a pressure plate is provided before the flywheel is balanced)
connecting rods rebuilt, including:

reject any that have been "through the case" or otherwise in a major incident.
thoroughly clean the beam and cap and remove the small-end bushing
magniflux to check for cracks
straighten (twist) if necessary (very few need this)
resize the big ends
install the bushings in the little ends
bore the bushings so that all 4 rods have exactly the same length
hone the bushings to fit the pins, and finally;
balance end-for-end and total weight of the set to within 0.1 gram.

balancing of the piston weights (the goal is within 0.1g but sometimes one piston is ligher than all the others and a little more imbalance is tolerated.)


"Blue Printing" - superior combustion chamber volume matching is performed using our unique "Crown Above Cylinder" measuring method (along with traditional methods) as documented on this page about blueprinting and on many web pages of engines we've built such as found here.
a great many minor tasks, too numerous to list, will be performed such as the setting of the rocker stand heights and correcting the wire bails for the valve covers; this is an inclusive service.
all standard replaceable parts are included, including: (only for the long-block, not the entire engine)

gaskets
seals
bearings
valve springs
non-windage pushrod-tubes (windage pushrod tubes are available for a modest additional charge)
piston rings (for standard piston types only)

some parts "non-standard" for a rebuild are also replaced for quality and reliability's sake, including:

new valve guids and new valve springs are always fitted
we stock new distributor drive gears which should be fitted if the one provided has any apreciable wear - we offer an inexpensive "upgrade pricing" for these.

some vital parts that must be sized to each individual engine are hard to find, even rare, yet we have superior solutions for your engine, including:

modern bearing sets and modern flywheels, either alone or in combination, sometimes make it challenging to set crankshaft end-play by requiring sizes that Porsche never provided. In addition, reproduction end-play shims by the major vendors are made of too-soft material and wear much more quickly than stock. Many shops resolve the latter problem by using the repro shims anyway, and the former problem by using multiple VW 25 / 36 HP shims but using multiple shims is not permissible as these thinner shims cannot handle the clutch pressures and extrude causing shim cupping and excessive end-play. Instead, we solve both problems by making our own shims from high-quality spring-steel.
since the alloys the camshaft gears are made of all expand with time due to surface layer absorption of oils and / or oxygen from the atmosphere, most engines require smaller gears, resulting over time in a large number of never-needed larger gears and a shortage of smaller ones. And, this results in the marked size being unreliable, consuming the builder's time. Most shops simply can't set the cam gear lash correctly and settle on using the smallest size they have (or can find) and hope it works out, sometimes risking shedding metal particles into the oil. Our solution is we bring our larger-sized gears to a gear specialist and have them trimmed, providing us a wide selection of smaller sizes so that we have a great many on hand and can always select a perfect gear for most any engine - we've never missed yet.

As stated above, major components (those which are not traditionally replaced in a rebuild) must be in serviceable order and / or can be made serviceable with non-extraordinary processes with the following exceptions: new valve guides are included whether needed or not and the "hard-facing" of steel valve rocker contact faces is non-standard elsewhere but is also included in this package for the later type (non-iron) rockers. (The iron rockers are harder and don't normally require any attention, but if the set provided needs refacing, it will be included in the package price.)

We will often offer "upgrade pricing" to this service package which vary based on customer need and current pricing of these parts, the most common examples being for various choices of piston and cylinder sets, pushrod tubes, brass timing gear, and OEM gland-nut.
2PC-LB
Engines in this category are very rare, they are much older, and they were originally less durable than their later (younger) counterparts. And, a great many pieces were made obsolete over five decades ago, and since then parts availability has only gotten worse. So, this category of service package is based on the 616-LB noted above and all the special notes cited there apply here, too. But this service has a few differences from the service packages for later years because the engines are different.

When evaluating this service package as compared with the 616-LB package noted above, note that camshafts, valve-train-related parts, and pistons and cylinders are specifically exempted from the language described above. Instead, these items will be handled as described in this section.

Valves, Valve Springs, Shims, and Retainers

Complicating matters considerably, there were three different valve and valve spring configurations before the end of this era! And none of the parts from these different configurations are available new today. Unless our customer is very lucky, the best we can do today is adapt in parts that are close. Happily, we have done this many times with great success, but this standard service package is limited to only 10mm valve stems with single springs whereas the earliest engines in this category had 8mm valve stems and were therefore lighter, required less springing to avoid valve float and were easier on the camshafts; unfortunately, we cannot provide neither 8mm stemmed valves nor dual springs as a standard-package offering. If the engine we're rebuilding has 8mm valve stems / guides and / or dual springs and cannot be easily made runable, we'll convert it to 10mm and single-spring and bill you for the extra parts required. We will not mix and match in a single engine. If you want us to make the 8mm runnable anyway, that will be additional "time and materials."

Camshafts

For reliability, we will only install new camshafts. Of the five different cams Porsche originally provided in this category, we have two factory grinds available that are exact copies of the originals, the 1500 and 1500S, and we can come close for 1100 and 1300 and 1300S engines. Whichever grind we provide, it will be ground on a new billet.

Piston and Cylinder Sets

There were (at least) five different sets used in this era. The standard cylinders were iron and came in 1100cc, 1300cc, and 1500cc versions, with bores of 73.5mm, 80mm, and 80mm, respectively but with different pistons in the 1300 vs 1500 versions. The 1300cc and 1500cc Supers came with aluminum cylinders that had a chrome-plated inner wall, with 74.5mm and 80mm bores, respectively.

If the set provided by our customer is serviceable, we will simply service them as needed and install them. However if they're in need of replacement, unfortunately, only one of the original 5 versions is available "off the shelf" today, the 1500 normal with iron cylinders. These are intended for a 74mm stroke and 7:1 compression ratio (versus 8.2 for the S version). ...We have been having vendors make pistons for us since 1990, and we can make anything you might want but given the typical wear and tear on these, and the expense of making things, this flat-rate service package can only provide the iron 1500 normals. Any other provision will be extra.
LB-ASSY
"Long-block assembly" is for when there is reason to have good confidence in the parts. For example, if a recently rebuilt engine has something go wrong requiring it to be torn down and reassembled to fix an internal problem, perhaps most of the engine needs no attention.

This service provides a standard flat-fee for assembly of a Porsche 3 piece case engine. This includes only the actual assembly, and only from valve cover to valve cover, flywheel to oil pump cover - clutch if provided. No parts, cleaning of used parts, or machine work is included except for the basic gaskets, seals and non-windage pushrod tubes. This DOES include complete reassembly to long-block status. This involves precise measurment of the parts, checking all components, combustion chambers, cylinder heights, deck heights, setting valve spring heights, setting of compression ratio and all other assembly tasks. If remedial action is required, it will be billed as an extra cost.
Engine Components
Rocker Arms

This is an exchange service: We have them in stock ready for service and we take your serviceable items in and exchange them. This allows us to lower our costs by doing the work in large batches instead of just a set at a time. And, it speeds you on your way. However, if you require yours back, there will be an additional delay, and our standard pricing will not apply. Please be certain to inform us when placing your order.

There are a number of related services not documented here, such as checking iron rocker stands for cracks, and replating the later type rocker mounting hardware used in the 616 series. So, just ask!

Note that adjusting screws should be removed prior to sending in for service. We don't want to have to bill you if they're stuck, which is common, nor stick you with missing screws your sure you could have easily removed!

Also note that the threads where the adjusting screws are fitted require carefull cleaning after our service and before refitting the valve adjusting screws. This is due to some remaining media caught in the threads. We don't do this cleaning for you for two reasons. First, the cost of the service would necessarily go up. And second, it's vital that the engine builder take responsibility for ensuring there is no foreign material built into an engine and this compels the builder to notice and take action and ensure it's all clean.

TIP: These threads are most easily clean with a small diamter spiral wound nylon brush whose bristles are about the same diameter as the screw thread - namely 8mm. Follow up by blowing out the oil passage and shaft bore.

RKR - This service Refacing of rocker arms for engines prior to the 616 series.

This service restores the correct rocker-to-valve contact surface to all of the iron rockers - that is, all engine types before the 616 series (which are steel). Polishing of rocker shafts is included.

Be sure to read the notes above about adjusting screws and cleaning.

RKR-616 - Hard Facing of the rocker arms for the 616 engine series.

This service, as with the iron rockers, restores the correct rocker-to-valve contact surface to the rocker. However, unlike the iron rockers discussed above, these steel rockers were only surface hardened during manufacture and so with the passage of many miles, this surface eventually wears through to soft material below. Soon after this happens, the rocker no longer has sufficient material to be simply resurfaced.

To addtess this problem, this service involves first cleaning up the contact face that a new surface can be evenly and properly applied. A new material called "hard facing" is then welded on, and then this new material is shaped properly. This restores the original shame and function, and this material is actually harder than the original hardened steel surface so it should give even better wear resistance.

Be sure to read the notes above about adjusting screws and cleaning.

Fuel Pumps

This web page remains a work-in-progress!

FP - Fuel pump rebuild - early (pre-616 engines)
FP-616 - Fuel pump rebuild - late (616 series engines)

Distributors

This web page remains a work-in-progress!
Trans-CK, Trans-DIF, Trans-RB, and their two-piece case variants: Trans-2pc-CK, Trans-2pc-DIF, & Trans-2pc-RB
This service is for Porsche 356 transaxles and, because the first 356 automobiles used stock VW transaxles, this also includes early VW transaxles as well. As with long-blocks, the primary difference here between these service packages is with pricing. Note that due to frequent and seemingly random swings in the prices of parts, both these services are "labor plus parts" where the labor is fixed-price but the parts prices are at the mercy of the parts vendors.

About "2 piece case" Transaxles

Note that from the earliest days, Porsche transaxles had a two piece case, with a right and left half. The earliest cars through June, 1952, were equipped with VW transaxles. With the advent of the 519 type in July, 1952, Porsche got its own transaxle and was fully synchronzied for the first time (except for reverse which was never synchronized). During the production of the 644 transaxle, the case was changed to become one piece, these are referred to as "tunnel type," and like before, there was an "intermediate plate" and a "nose cone" to give the housing its full form. From that point on, all Porsche transaxles are tunnel type. Our designation here of "2PC" denotes the earlier, non-tunnel type transaxles.

These service packages provide a flat-rate servicing of Porsche transaxles. The following steps are performed:

CK - Check services (not rebuild)

(Note that we have withdrawn this service at the present time but may reintroduce it after further consideration. Feel free to contact us if you are interested in this service and we can discuss it.)
the transaxle is partially dismantled for inspection, and thoroughly cleaned
upon finding no issues, it is ressembled with attention to the following detail:

all runnnig dimensions (such as the backlash for the ring and pinion) are re-set to specification
new gaskets, seals, and axle boots (and their straps) are fitted
the case is blasted clean, as appropriate to the case (plating of the case is an optional extra)
axle tubes, axle retaining plates, brake line supports, clutch arm, breather (aka "vent") are blasted and painted (powder coating is an optional extra)
the hardware (nuts and bolts) is all plated

all the gaskets, seals and solid axle boots (and their straps) are included (note that solid axle boots were the original type and can only be fitted with the axle tubes removed)
if problems are found, they are reported to the customer for their decision
should a full rebuild be advised and selected, the customer will receive a full credit on converting the service package to an "RB" so long as the transaxle and attendant parts doesn't leave our hands.
DIF - Differential / Axle rebuild services not requiring a full rebuild

This service is exclusively for transaxles that are "in service" that have developed an issue with the differential or axles and have no ohter known problems. However, once "inside", we may discover a full rebuild is necessary and we reserve the right to "upgrade" to a full rebuild based on the evidence.

TWO PIECE CASE: It happens that the design of the two piece case transaxles, discontinued by Porsche after the 1956 model year (and VW after 1959), is such that it is much more labor intensive to do these. Customers are advised that it might be worthwhile to just opt for a full rebuild since the overlap in the amount of work is large. In sharp contrast, doing differential and axle work on a 644 or later transaxle is dramatically easier, so long as the ring and pinion gear themselves do not require replacement.
the transaxle is partially dismantled for inspection and repair, and the dismantled parts thoroughly cleaned
problem areas are identified and either parts repaird or replaced - additional charges will apply based on the need.
transaxle is ressembled with attention to the following detail:

the differential bearing preload is re-calculated and reset, along with the backlash for the ring and pinion
new gaskets, seals, and solid axle boots are fitted and their straps provided for whomever does the installation (the straps should not be installed prior to the transaxle being installed into the automobile because invariably the axles have substantial rotational stress during transport and installation and the axle boots should not be subjected to these stresses)
media or vapor blasting the case, and possibly replating as appropriate, is / are available as optional extras
axle tubes, axle retaining plates, brake line supports, clutch arm, breather (aka "vent") are cleaned and painted in rattle-can satin black, with powder coating an optional extra
the hardware (nuts and bolts) are all cleaned and replating is an optional extra

all the gaskets, seals and solid axle boots (and their straps) are included (note that solid axle boots were the original type and should only be fitted with the axle tube end-castings removed)
if unanticipated problems are found, they are reported to the customer for their decisions
should a full rebuild be advised and selected, the customer will receive a full credit on converting the service package to an "RB" so long as the transaxle and attendant parts don't leave our hands.
Trans-RB - Rebuild services

As with engines, early and late ones have different detail and different pricing. While there were six different transaxle types, we only differentiate based on if it's an early, split-case (noted above), or a later tunnel type, and based on which gear type it has.

The tunnel-types have an additional distinction: The earlier tunnel units, type 644, have the same gears as the split-case 519 transaxle known as "hard synchro" gears. Starting with the 716, later tunnel types have different synchronizer rings, and are known as "soft synchro" units.

Apart from the synchronizer rings, the hard synchro type gears have bearings consisting of two rows of tiny rollers, each of which is held in place by a bronze cage - there are hundreds of rollers. The later type uses a single row of long rollers that are held together in a plastic cage.

The later type is significantly easier to rebuild because the rollers are captive during the rebuild and the mechanic only has to keep track of four relatively large pieces. In contrast, the early type are free, not captive, and it's a challenge to keep them all in place, not lose any during disassembly, reassembly, etc.. Plus all the rollers have to be the same size!

It's for both these reasons we differentiate pricing. Note, however, that the shafts are the same size, the assemblies the same length, and it's possible to put early gears in late transaxles as well as, the much more common choice, putting later, soft-synchro gears in an early trans. So, the official type number isn't everything!
all of the features of the Trans-CK version of this service are included here
the differential housing is magnifluxed to check for cracks
the axles are put on centers and checked for true-running
the following bearings are replaced:
any gears or other parts that require replacement or repair will be billed as an additional charge.
---
Premium Engine Services: PS-616, PS-3PC, PS-2PC
These services all combine the appropriate long-block building service with dynamometer run-in and tuning services and also include extra parts, as appropriate to the engine type. The main difference between these three services is pricing based on the type of engine. In addition to the matching long-block service, the service includes:

Long block service as appropriate to the engine (616-LB, 3PC-LB, or 2PC-LB), upgraded as follows:

New Stainless Steel windage tubes
New Distributor Drive Gear
New genuine OE gland-nut (attaches flywheel to crankshaft) NOT an aftermarket one that requires over-torquing!
New Oil Control Pistons and Springs

Dynomometer service DYNO-RT, or DYNO-R, depending on whether using customer or loaner parts. (see below)
Engine assembly from long-block to either:

"turn-key" using the customer's parts and engine will be delivered as run-in, or instead;
loaner parts will be used for the run in, and engine will be delivered as a long-block. If later the engine is to be assembled as a turn-key for delivery, the labor for that is not included in this package.
---
---
---